Day 3 - 17 October 2016
Kenapa tetiba Day 3??
Day 1.... Arrived HCM Airport in the morning and take a bus to Mui Ne. Arrived at night time at Mui Ne Hotel.
Day 2.... Wake up early in the morning for sunrise at Mui Ne. After finish the trip we go back to HCM city within 8 hours journey in the bus. Right after arrrival check in Bali B Hotel.
Ok mencari hotel untuk check in buat pertama kali di bandar Ho Chi Minh. Tapi Mrs Khanh ni sangat baik dan mengasihani saya (thank you so much Mrs Khanh) she just take her motorbike and send me to the hotel :)
Masa check in. Ada masalah pulak lah since iols bertekak jugak dengan receptionist tu pasal payment, setahu I diorang credit kan ke kad kredit. Tapi sebenarnya tak, mereka terima cash. Maybe aku tersilap faham dengan apa yang dibaca dalam booking slip, aku bayar je lah guna duit, cuma dalam hati suspen jugak takut terbayar double (satu cash di kaunter satu lagi takut di caj lagi pada kad kredit). Teringin nak call Standard Chartered oversea tapi takut kredit habis pulak. Adehh. Sebab ini first time I travel alone (masa di Sydney Alex yang uruskan semua so i macam tak berdepan masalah pun). Untuk 2 malam di sini USD 33.80 bersamaan RM 145 pada rate exchange masa tu... murah kan
So, I take this one as my first lesson that, when check in we need to bring cash money since the credit card that we used in Booking.com is for BOOKING PURPOSE only. They will NOT CHARGED to your credit card unless they mentioned it.
I don't have a good picture :( but this one you can see from goggle ok
Sebenarnya hotel ni agak jauh daripada center, Ben Thanh Market tapi memandangkan hotel ni je yang ada semasa i buat booking di Booking.com hari tu. Quite nice hotel actually, saya ambil queen bed.
Nampak tak komputer tu?? Malam tu aku turun bawah ni untuk guna komputer, transfer gambar-gambar Mui Ne daripada sim kad kamera masuk ke pen drive. Siap buat folder satu di desktop tu taruk nama aku, hahaha.... apa takut nanti ada orang nak curik gambar? Ko kenapa dik.... bukan gambar bogel pun
The lobby area and have open air space to breakfast :)
Dah lama tak duduk hotel. Sesekali nak jugak menikmati tilam & pemandangan berbeza kan?
For me Basically Bali B Hotel have everything for me to survive with USD 33.80.. hahahah. Cuma terletak jauh dari Ben Thanh area sahaja. Next time, I nak duduk area sana pulak. Kita tukar-tukar
Agak jauh jugak berjalan dari Hotel Bali B menuju ke Pasar Ben Thanh sebenarnya. So if you wanna visit HCM and do a crazy shopping better you check out first what is the best hotel you need to stay yea =)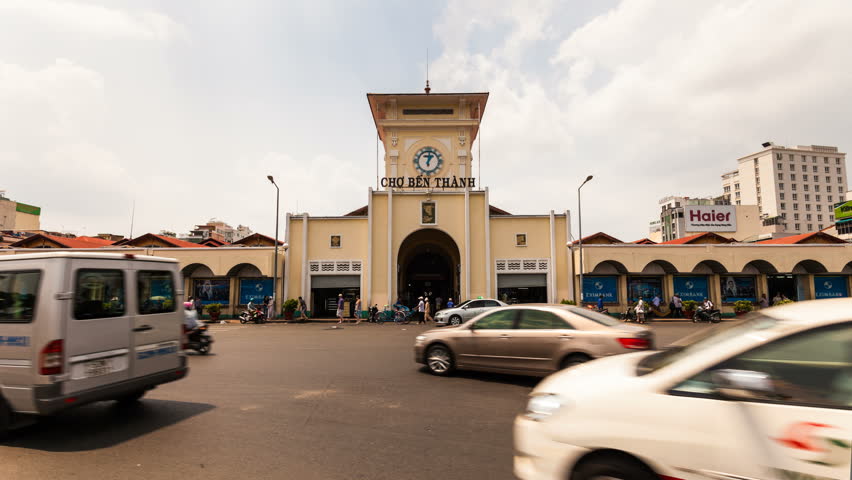 Ini Pasaraya Ben Thanh (Ben Thanh Market) and why peoples need to stay hotel around here, is better and easier to make your shopping activity. At the night also have bazar at the road.
Day 3.... now to story.
Masa menaip entry ni dan Goggle Map semula bandar Ho Chi Minh, tetiba rasa rindu sangat dengan Vietnam. Suddenly I miss Vietnam, the peoples.. the place... the shops and the VIETNAM COFFEE! I'm totally a coffee freak person actually! I wish to come back HCM.. very soon..
Baiklah turun je bas dari Mui Ne, saya pun bergegas (cewahh bergegas) semula ke pejabat Mrs Khanh untuk plan aktiviti seterusnya iaitu
MEKONG DELTA yang berharga USD 13.
Selepas pembayaran akan dapat baucar, yang tu simpan jangan tinggalkan sebab diorang akan join saya dalam tour group. Berkemungkinan besar, combine dengan travel agent yang lain. Masa turn diorang check i punya baucar, I terlupa mana i letak.. alamak T_T
So i cakap i dah bayar pada Mrs Khanh tadi... ini resitnya... tapi dalam resit tak pula ditunjukkan nombor pakej tu. Cuma ada dalam voucher. But.. nasib baiklah mamat tu lepas je aku hehe.. how kind of Vietnam people, boleh berlebih kurang atas dasar kepercayaan sahaja pada Mrs Khanh kot..
Cakk!! Ofis Mrs Khanh atau syarikatnya dikenali sebagai VN Lotus Travel. My memory more to the personal name haha...
Ok sementara menunggu tour-tour agent tu arrange transport, kitorang duduk di depan kedai travel agent tu. Semua Mat Salleh! dengan wife @ couple masing-masing... yang sorang-sorang pun ada jugak stok-stok lelaki ber tatu haha... I senyum je lah pada diorang mana lah tahu kalau kejap lagi dapat boat yang sama di Sungai Mekong nanti.
Terus terang aku cakap... I work as a speaker kalau tak bercakap dengan orang memang mati kutu. Tapi takpe... jap lagi dalam boat boleh dapat kawan kot
And what is Delta Mekong Tour.. mula-mula naik bas dahulu which is an unforgettable way of seeing the Mekong Delta to drive along the provincial roads down on the Southern region of Vietnam through paddy rice field, pine-apple plantation, orchard and small hamlets
The trip would be 2 hours' drive on the bus... kalau ada singgah ke mana-mana, jangan lupa beli rain coat cuma VND 13,000 bersamaan 2 ringgit je. Jadi ambil kesempatan untuk masuk tandas sebelum sukar untuk bertemunya nanti
Banyak giler Mat Salleh kat sini. Suka betul diorang datang Vietnam. Langsung takde orang dari negara lain
Kemudian tiba di My Tho, barulah naik bot. After arrival in My Tho, you will ride on a local motor boat along Dragon Island, Unicorn Island, Phoenix Island, Turtle Island and stop at the famous Unicorn Island. While at the Unicorn Island, you will visit natural pure honey at the bee keeping farm.
Pure honey
Dan juga kita akan diasingkan dengan beberapa meja... iols duduk dengan sekumpulan awek-awek Vietnam. dan seorang lelaki warga UK. Untuk merasa teh yang dicampurkan dengan pure honey dan try diorang punya kekacang. Sedap gak. Kalau ada duit lebih apa salahnya beli. Iols tak beli honey, sebab iols kurang makan yang manis semenjak usia mencecah 28 tahun kerana takut kehilangan kolagen... makanan bergula boleh remove kolagen dari kulit... ko ingat senang nak construct kolagen, kena consume Vitamin C, makan banyak antioksidan pastu bila dah construct ko boleh sesenang je nak remove dia... jadi untuk mengelakkan kolagen hilang dari kulit sewenang-wenangnya maka saya buat keputusan untuk nengurangkan pengambilan semua jenis gula termasuklah yang tersembunyi (makanan dalam tin). Alamak taip panjang-panjang nanti marah plak peniaga honey kat aku nanti.. larikk
Taste some honey tea, rice wine, banana wine.
Nak dijadikan cerita... aku langsung tak tahu itu Banana Wine. dan aku telah makan pisang di atas meja yang disangkakan pisang bersira gula itu dengan jayanya. Bila balik Malaysia dan baca balik website VN Lotus secara terperinci baru tersedar! Patotlah sodap! T_T
Masa tu mulalah iols bersembang-sembang dengan lelaki sebelah orang UK. Engineer katanya di UK. Tapi iols tak suka... i don't like the way he looking at me, he noticed he keep observing my watch and handbag. Halo! You scared if I am poor Asian and maybe I will borrow your money?? I start to step away from him and make conversation to other people huhu...
Lepas tu ada ular sawa untuk korang pegang-pegang untuk bergambar... kalau berani la... tak nak lah, sebab iols pakai tudung, jap lagi ular tu tak reti mana nak menyelit kang dia terpatuk aku. Takut!
This is very unique coconut and I never see this kind of thing in my life!!!
On the way to riding a boat we need to went trough this kind of thing
Eh ada baby. Masa ni i tanya minah salleh sebelah yang tangkap pic budak ni "They not feel worry to left their baby just like this....?"

"Maybe a snake will come again..." she answered. LOL
While waiting my turn to riding a boat, I got new friend from Czech Republic who is currently studying in Bangkok, Thailand. Nice to meet you Anna Te Znici.
Cakkk
Korang nampak tak adik belakang aku tu? Anna bagitahu aku yang budak-budak ni kekadang nak tip (duit) dari pelancong. Tapi aku takut gak nak bagi amaun kecil, nanti dia buat muka. Kalau bagi duit besar tidaklah aku mampu. Jadi aku pun tak bagi. Tapi disebabkan aku duduk depan dia, asyiklah dia push aku bagi dia duit. Ko dah kenapa... aku dulu kerja gaji kecik masa fresh graduate dulu tak pernah plak mintak duit dgn subkon ke client. Lainlah kalau orang nak bagi angpow or duit raya dengan rela hati. So, untuk mengelakkan dia bercakap dengan i maka i pun sibukkan diri bergambar dan menyanyi-nyanyi atas bot tu. Mat Salleh senyum-senyum je, terhibur tengok gelagat Muslimah yang sorang ni
Anna in front of me busy taking pictures. And did you see how friendly Vietnam's women? :)
Taking rowing boat along the natural water coconut canal to see the local lifestyle in the Mekong Delta. How amazing view!!!
After riding the boat, one Vietnam family said I look so beautiful and asked me to take pictures with them.. alamak terharu sekejap... :')
After that we walk to another area on the Unicorn Island to visit the tropical fruit garden, enjoy the fruits & listening to the Southern traditional music. Kami dihiburkan dengan nyanyian tradisional Vietnam Selatan, sesambil menikmati buah-buahan tropika yang memang aku sebagai orang Asia dah biasa merasa berbanding Mat Salleh ni semua...
Actually I want to snap this beautiful couple in front of me, but I feel shy =P
Singing Vietnam traditional song
The we stop at Ben Tre province to visit a handmade coconut candy workshop. Diorang ada demo camane nak kukur kelapa hahaha... sebab kelapa tu akan diperah isinya untuk dibuat gula-gula. Mat salleh ni semua snap picture ok, sebab diorang belum pernah tengok kukur kelapa.
The coconut paste they process until become like this and cut it into a smaller size
The candy
They start to packaging it... seems easy to carried out a candy actually. But sure takes a long time to sit and to packed it one by one
Ready to sell
Beside that they also selling an oil which they put together with a snake!! 0_0
0_0
This one from scorpion. Do you know what is the purpose of this oil? Good for gentleman to take it... to improve their sexual performance! A few white peoples in my group try to taste it.

"How's the taste?" I asked

"Ehmm.. not bad..."
I hope they will get a better sex tonight. Lol
Then transfer to a small motor boat and travel along the lush, green canals that are so beautiful for photography and stop at local restaurant for lunch.I didn't take any picture during our lunch time, tapi since this is my first time to eat at outside, I feel worry since I requested a vegetarian meal (request siap-siap pada Mrs Khanh sebelum buat bayaran pagi tadi) but I still.. lost appetite. They still sharing the same pan and kitchen equipment right?
Anna.. sebelah saya pun tak makan babi takut hidung sakit. She also order vegetarian plate as me. But we only finished it half.
And two couple in our table request the extra meal (fish) since they feel that pork is doesn't enough.
The menu list just to show you the real situation
After eat just walking around and find a washroom. I walking with Anna and we start to talked about travelling since she told me that she used to work as a waitress in New York to find some money. I take this chances to asked her some questions about visiting USA. I feel so interested with her story, and we start to exchanged our Facebook to keep in touch later.
To spend a few minutes left to see a crocodile. Last sekali saya tengok buaya rasanya masa kecik-kecik dulu di Melaka. Nostalgia kan
The local motorboat will take you back to My Tho and then, the bus will take you back to Saigon. The trip ends at travel agent office at 5.30 pm dan saya pun bergegas pula (bergegas lagi) balik ke hotel. Bersiap-siap pulak malam ni nak beli barang di Bazar Ben Thanh.