Hujung bulan ni adalah lebih baik anda melapangkan masa untuk menghirup udara segar di Putrajaya.... berbanding aktiviti tipikal Rakyat Klang Valley iaitu pergi shopping mall! Aktivitinya adalah: Keluarkan tenaga untuk cari parking dan kadang-kadang berebut dengan driver lain---pada masa yang sama merungut sebab management tak provide parking mencukupi---habiskan duit untuk makan di overprice restaurant---lagipun tak beli apa-apa cuma majalah je---ataupun nak sedapkan hati beli something dalam Watson/Guardian---kalau pergi IKEA lagilah, punyalah 2 jam tawaf akhirnya cuma beli laundry stand je!---dan laaast sekali sebelum keluar, kena bayar parking pulak!---banyak tak duit habis? Banyak kan? Pastu bila sampai pertengahan bulan je ko dah takde duit... Lunch hour bila ajak kuar makan, korang kata dah kenyang atau macam-macam lagi alasan. Betul tak saya cakap? Betul kan?? haha jangan marah ye kak nanti kena jual!
Sebab apa saya ajak datang Putrajaya?? Sebab hujung bulan bermula 28th Mac hingga 31 Mac ni ada
Festival Hot Balloon lagi!
FREE pulak tu kan! Macam biasalah.... saya akan jadi pengunjung tegar untuk aktiviti-aktiviti di Putrajaya ni, maklumlah kerja pun sejengkal. Malulah kannn kalau orang Putrajaya tak turun imarahkan aktiviti kat sana kan? Tak dapat lama, sekejap pun jadilah....asalkan kita participate dengan aktiviti masyarakat setempat. Kalau boleh tahun ni nak naik helikopter... tengok dalam website ada tentatif Helicopter Ride, cantikk ar tu! Just the fee a bit pricey but nothing harm to experience it rite? Penerbangan helikopter cuma tertakluk kepada faktor cuaca je. Kalau nak tahu lebih lanjut bolehlah pergi ke website diorang OK?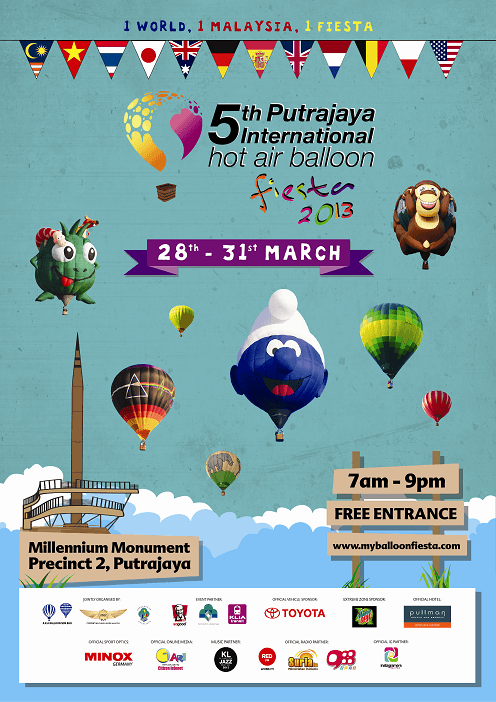 Millenium Monument ni tahu tak lokasi kat mana? Boleh tengok
Road Guide
yang Masreena tulis ni, atau kalau cuba sendiri boleh cari signboard menuju Presint 2 atau 8. Kalau dah sampai Presint 8 tu, just cross over the Jambatan Seri Wawasan then there you go!
Jadi tunggu apa lagi? Plan your next weekend now! Tata!!